WEDDING PHOTOGRAPHY AT LEEDS CASTLE, MAIDSTONE, KENT
James has photographed weddings at many different venues and locations throught the UK and abroad, including the wonderfully romantic wedding venue - Leeds Castle in Maidstone, Kent.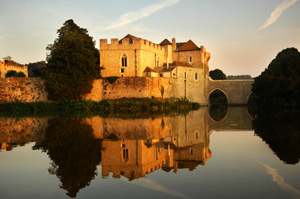 Kent's Romantic Wedding Venue

Leeds Castle in Kent offers some stunning photographic opportunities. The castle is set on two islands on the River Len in the heart of Kent and has been home to royalty for over 1000 years. Surrounded by 500 acres of parkland and gardens, Leeds Castle is an idyllic setting for the most romantic of weddings in any season.

If you are looking for a wedding photographer in Kent and would like to speak to James about photography at Leeds Castle or any other Kent wedding venue please contact James on m. 07870 642 955 or e. info@jamesobrienphotography.com
wedding photography home | about | gallery | prices | wedding albums | wedding resources | contact

© 2010 James O'Brien Wedding Photography