WEDDING PHOTOGRAPHY AT THE RITZ HOTEL, LONDON
As a London wedding photographer, James has photographed many different wedding venues and locations throught Greater London, including the elegant Ritz Hotel in London .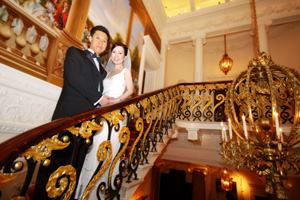 Elegant Wedding Venue in London

The Ritz Hotel in London has been the benchmark by which other hotels are measured for over a century. A London landmark at 150 Piccadilly, The Ritz has been home to the great and the good, the intelligentsia, the glitterati and thousands of discerning guests since 1906.
Hold your ceremony, reception, and even your honeymoon at The Ritz and you're guaranteed the most elegant and memorable wedding imaginable. The Ritz offers a variety of reception areas in a choice of styles; select from the sumptuous Louis XVI interiors of The Ritz itself, or the restored 18th century splendour of adjoining William Kent House. William Kent House is home to some of the most impressive banqueting rooms in London. The most opulent of these beautifully restored dining rooms, the William Kent Room, features magnificent original architecture dominated by a breathtaking coved ceiling in Italian Renaissance style. The adjoining Queen Elizabeth Room, an elegant drawing room overlooking Green Park, is ideal for wedding ceremonies and pre lunch or dinner cocktails.
The stunning Music Room, the largest of the banqueting salons can accommodate up to 60 guests for lunch or dinner and 120 guests for a reception. The Grand Hall, at the centre of William Kent House, is linked to all the rooms for extended entertainment space and its elegant Victorian staircase, rising between two impressive marble pillars to the upper floors of the house, provides the perfect backdrop for wedding photography and beautiful bridal pictures. The Italian Garden, one of the few outside locations in Central London is also perfect for summer receptions and wedding photographs.
The opulent surroundings and luxurious furnishings in the hotel, aswell as wonderfully ornate stairways, offer some truly beautiful wedding photography opportunities, no matter what the weather. One thing is guaranteed, your wedding at the Ritz Hotel in London will be luxurious and unforgetable!